February 2008.

I am thrilled to advise you that our friends at GameSetWatch are selling an official reproduction of one of our "vintage" (or as we say it here, "old") game shirts: Grabungadung. I wrote about this dung beetle game back in November, you will find that article here.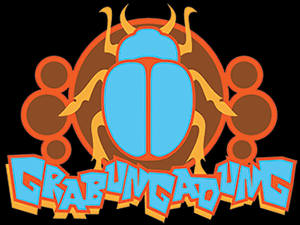 So go and purchase one, and, like me, wear it with your Members Only jacket and Ray-Ban Wayfarers as if it were indeed 1982 again (please to be wearing pants also). So fashionable! If only I still had my original shirt! Alas, it was ruined when one of Bruno's miniature Schnauzers gave birth to a litter of puppies on it (thankfully I was not wearing the shirt at the time).

November 2007.

I have been guest-editing this week over at GameSetWatch, which was great fun. -- Karsden Mörderhäschen, CEO

March 2007.

I was happy to see that Guitar Hero developer Harmonix and its publisher Red Octane have mentioned Accordion Hero in recent interviews. And do not think we have not also seen this! Are you poking the fun at us?

If you have seen our advertisements in Computer Games Magazine, you will know that we were indeed able to squeeze a little more out of this license: ACCORDION HERO II is coming. And, yes, the ad is a tribute to one of the greatest rock albums of all time and I do not mean Planet P Project's "Pink World", although that was very inspirational to me personally.

ACCORDION HERO II features all new songs, and for you whiny uncoordinated folk - Practice mode. The game comes with the Strumpf Blue Metallic Double Accordion Controller, which is based on the legendary ADS-1275 doublebellows accordion played by Jimmy Page in a rare 1974 bootleg version of "The Song Remains The Same".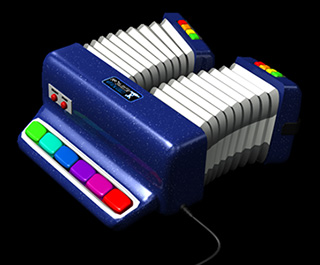 Double the bellows, double the fun
We are no less enthused about our other music-related PC game, NACHTMUSIK, a karaoke survival horror game. Yes, we have combined our love of karaoke with our love of German opera and our love for running around ruined, ichor-spattered hallways wielding a bloody candlestick or sawed-off shotgun while being pursued relentlessly by ghosts and mutants. I do not think there is another karaoke survival horror game in the world! There may well be a good reason for this, but such things have never stopped us before.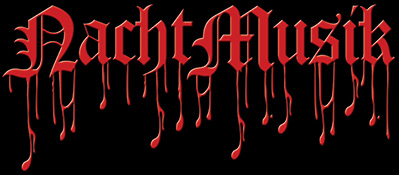 -- Karsden Mörderhäschen, CEO

03.02.06.

For those who are visiting after seeing our ads in the recent Computer Games magazine, Wilkommen, and you are to be congratulated for typing in our very long URL. For those of you who were Googling for something completely different, we hope you will enjoy our site even though like the last Star Wars film it is not all that you had hoped for. We are pleasingly thrilled to announce two new games:

Dead Men Rising is an exciting zombie U-boat simulator that has caused a great deal of controversy here in Germany in regarding to the violence and sensitive subject matter. In America, this should pass unnoticed as you have a higher tolerance for violence and gore in computer games. Also you do not teach world history in your public schools as the little children are too busy stabbing one another and hitting each other in the head with their Desperate Housewives lunchboxes.

As for Accordion Hero, who amongst us has not dreamed of becoming a great accordion player? Now we have made it easy for you to be an accordion hero in the privacy of your own living room. Leben sie der Traum!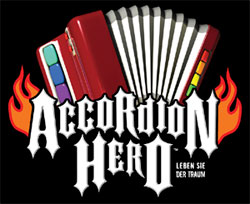 02.16.06.

You may notice we have slightly redesigned our logo...many people had complained that the name was too hard to read. This should be no longer be a problem. As for the name being too hard to spell and understand, you are on your own!
01.13.06.

I am pleased to announce that our team will be writing a column for Gamasutra (a popular web site for game developers) giving you a look behind the curtains, as it were, here at Schadenfreude. Even though many of you are not game developers, I hope you will enjoy this column in the same way that I enjoy watching zebras on Animal Planet even though I am not a hungry leopard.
-- Karsden Mörderhäschen, CEO
03.01.05.



"We came here to kick ass and eat weinerschnitzel...and we're all out of weinerschnitzel."
-- Der Lederhosen, "Aus Den Augen, Aus Dem Sinn" (TT:LXB S1, Ep.3)
We are pleased to announce that Schadenfreude Interactive have acquired the TEUTONIC TEN license! You, who are not German, will not understand, but the Teutonic Ten was the popular cartoon on German television from 1977-1979. Although some said it was merely a copy of the American "Justice League" this is not quite so. The Teutonic Ten comic books originated in the early 1960s, and these Superheroes are beloved to many Germans as they represent many of the positive characteristics and spirit of our country. Also they were to be "kicking ass" in a multiplicity of ways.

From left to recht: Der Lederhosen, Steinmaiden, Black Forest, Blutwurst, Kappelmeister,

Edelweiss, Doktor Uhrmach, Schrödinger, Ottowerks, Giftzwerg

I personally am a large fan of the comic. I am having all the action figures, including the Chalet Of Steel (the Ten's alpine fortress) play-set that which was joyfully received at Weihnachten in 1977. Somewhere even, my mother has a Photograph of my little brother and I proudly in our Teutonic Ten UberUnterhosenTM, although this photo is seen not here or anywhere. My favorite episode of the TV show was the final season's "Also Sprach Zarathustra", although "Cat und Maus: Schrodinger vs. Chronomouse" from season one is close second. My favorite team member is Der Lederhosen, although I did have a large fondness for Edelweiss, as did many young German men.
-- Karsden Mörderhäschen, CEO of Schadenfreude Interactive

Teutonic Ten: League of Extraordinary Bavarians is a squad-based tactical RPG in which you play as Germany's greatest superheroes. Battle evil villains: Angstwaffe, V3, The Brothers Grimm, Torschlusspanik, Wolperdinger, Prussian Blue and their evil overlord, Baron von Fraktur. Coming 2005.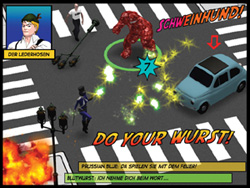 Klicken fur grosses
03.31.04.

Wilkommen! Many of you coming to our place by noticing our ads in Computer Games magazine (Ulrike, our VP Marketing, contacted a magazine we will not call PC Gamer and they laughed at us, thinking our titles were a joking! Well, as the old German saying goes, may the cat eat you and the Devil eat the cat and also your foolish coconut monkey item, der Wederman!) Many of you are also asking us, "These ads are pleasant, but when will the games be available in the US?" and to this I respond, we are currently seeking a US publisher, and will keep you in knowledge of the status.
-- Karsden Mörderhäschen, CEO of Schadenfreude Interactive


02.24.04.
Our CEO Karsden Mörderhäschen is happily to announce Secret Weapons Over Neverland, a fantasy WWII flight simulator in the spirit of "Lawrence Holland meets American McGee":
"Children all love the story of Peter Pan, even though he is a bit creepy little boy. Pirate ships, B-24 bombers, Messerschmidts and fairies are brought together in this game. In fact, my uncle Erich was a Me262 pilot and also a fairy, not that anything is wrong about that!"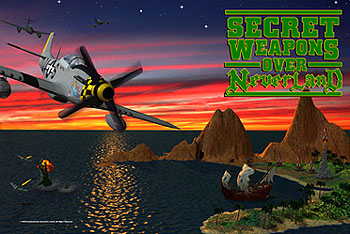 Klicken fur grosses
Also on the list of upcoming releases is another racing game set in the world of J.R.R. Tolkien, which is Need For Speed: Underhill. Ulrike Käsegeschäft, Schadenfreude's VP of Marketing, says:
"Nazgul Thunder 2003 was such a success. I was to be surprised to see so many were interested in hobbit car racing! Since movies like 2 Fast 2 Furious are very popular in the US, we have made a hobbit street racing game like this where the cars have spoilers bigger than 'Frodo throws the Ring in Mt. Doom and Gollum dies'. Oh! I hope I did not ruin the movie for you who will not read books."

Both games are expected to be released this Summer.
10.14.03.
PRESS RELEASE
Ludvigshaven Am-Rhein, Germany In response to the recent lawsuit by the city council of Stowe, Vermont, regarding our recent game Grand Theft Ottoman, Schadenfreude Interactive would like to state that no offense was intended. We feel ostensibly confident that the people of Stowe are fine people, and that there is nothing wrong with collecting antiques. When a character in the game states "Yo, kill the Stowe!" he is speaking as a gang member and not as a representative of our company (in fact, we were unsure as to what the people of Stowe call themselves, since "Stower" or "Stowian" sounded unlikely). This does not reflect in any way upon the apparently fine people of Stowe, and we at Schadenfreude Interactive do not in any way wish to harm or kill them. We sincerely hope that none of our players do either (however, if they do, we take no responsibility for their actions).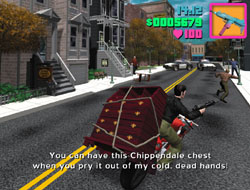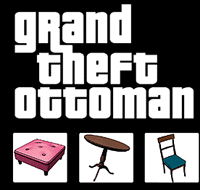 04.20.03.
Schadenfreude is pleased to announce Hannibal Crossing. CEO Karsden Mörderhäschen explains:
"Instead of vegetabling in front of the television playing a console game, I imagined a game where families could to learn together about military history. Thus we are developing Hannibal Crossing, an exciting interactive environment in which small animals re-create the Second Punic War. It is very colorful and amusings, also the weapons are authentic to the period."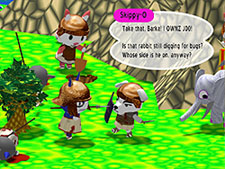 Klicken fur grosses
Hannibal Crossing will be available this Fall.