Yes, we've squeezed out another one -- ACCORDION HERO II is here!

Everything you loved in the first game, but more of it, ja? Features a new Practice mode, and 65 new songs including:

Leichtensteiner Polka, Traditional
The Bowling King, Those Darn Accordions
Can't Touch This, M.C. Hammer
Ya Ya Wunderbar, Frankie Yankovic
Pictures of Matchstick Men, Status Quo
In Heaven There Is No Beer, Traditional
Ride The Lightning, Metallica

klicken sie
Accordion Hero II comes with the Strumpf Blue double-bellows accordion controller shown here. The Original Accordion Hero is still available -- more information on that title below.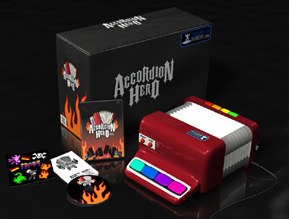 Leben Sie Der Traum -- Polka your way up from Der Rathskeller to Oktoberfest in Munich!
Hit all the right notes and get the crowd on their feet waving their beer steins in unison - you are an accordion hero! Includes all the great accordion melodies you've ever gotten really, really drunk to...from Ein Munchen Steht Ein Hofbrauhaus to Rock You Like A Hurricane.
Accordion Hero comes with one Gloss Black USB accordion controller. Kirschrot (Cherry Red) controller sold separately for two-player squeeze action. Awesomely rad sticker sheet included.
System Requirements:
Supports two Accordion HeroTM USB controllers
2GHz or faster CPU, 512MB RAM, DX9.0C compatible video card w/128 MB RAM
Klicken fur grosses