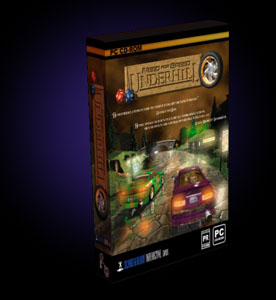 From the makers of Nazgul Thunder 2003 comes another Lord Of The Rings auto-racing game! It's Took against Tunnelly, Smallburrow vs. Sackville-Baggins in this exciting street racing game set on the dark, rain-slick streets of Hobbiton. But watch out, Bilbo -- with an exhaust system like that, you'll never pass Smaug!
Tear through all the towns of the Shire
Equip your car with everything from mithril-plated mufflers to dwarven-forged headers
Do donuts in Bilbo's Party Field
Hobbit hotties. 'Nuff said.
System Requirements:
Windows 98/Me/XP/2000 PIII500, 256MB RAM, DX8.1 compatible video card w/32 MB RAM
Optional: Steering Wheel Controller With Very Large Foot Pedals